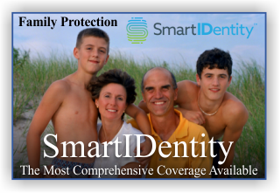 SmartIDentity
Most ID Theft Protection programs simply alert you if your identity may have been stolen, then tell you what YOU need to do to fix it. You will typically spend 150-600 hours doing it yourself, and the cost can be into the thousands for you personally.
Smart IDentity offers the most comprehensive identity theft protection programs available:
Offering programs for individuals as well as husband/wife/life partner, and plans that include credit monitoring for your children.

24/7/365 search of hundreds of private and public databases (Credit monitoring offers only three database searches). No exclusion for family fraud.

Fully managed restoration of your identity should you become a victim. We don't just guide you through the process, we do the work for you.

Personal advice from our experts - real people that listen. Members may call at any time. Our program also offers access to a members only website, and a monthly newsletter with important information.
Never worry again about the fastest growing crime in the country!