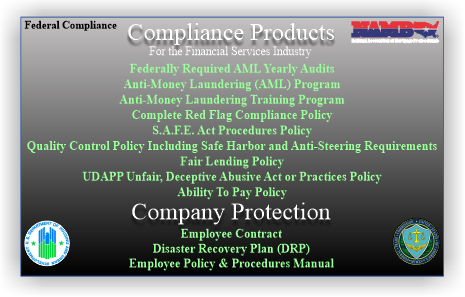 Want more information? No problem!
Call us at 513-259-1312 to speak
directly to a representative.

Thank you. We look forward to serving you.
Compliance Solutions for Large or Small Firms
We offer a range of compliance solutions including Anti-Money Laundering (AML) Program; F.A.C.T.act Red Flag Rule; Gramm, Leach, Bliley Internal Security Policies; Quality Control Compliance and S.A.F.E. Act Compliance. Contact us today for a review of all your needs.
S.A.F.E. Act Procedures Policy
Addresses each required topic under the S.A.F.E. Act

Covered Loans

S.A.F.E. Act Officer Responsibilities

Mortgage Loan Originator Definition

Employee Failing to Comply with Registration Requirements

NMLS Registry

Employee Information

Attestation

Unique Identifier Assignment

Providing Unique Identifier to Consumers

Training

Registration and Renewal Requirements

New Employees Previously or Currently Licensed

$150. per policy

Quality Control Policy
Addresses all aspects of your Quality
Control Policy

General

Responsibility & Authority

Scope

General Procedures

Selection Policy

Verification and Review

HUD / VA Loans

VA loans

Reporting Policy

Also includes provisions for
Safe Harbor and Anti Steering Act

$150. per policy




Purchase both policies together and save $50!


$250. for S.A.F.E. Act Procedures Policy AND Quality Control Policy Together!