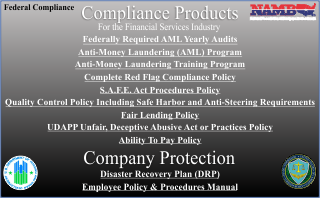 Want more information? No problem!
Call us at 513-259-1312 to speak
directly to a representative.

Thank you. We look forward to serving you.


National Association of
Mortgage Professionals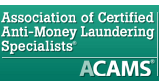 Already have the AML Program in Place
and need your yearly Audit?
Click here
Compliance Products
ANTI-MONEY LAUNDERING (AML) PROGRAM
We have taken a very complex issue and developed a common sense AML program that will accomplish what FenCENs intent is: to help prevent money laundering and fraud, while making your firm compliant. By utilizing the AML Check List we provide when beginning a new file, we have created a simple assessment to screen each and every new potential customer. The best part, we do all the work for you by providing your firm with a customized compliance and supervisory procedures written policy.
YOU WILL RECEIVE THE FOLLOWING…
Compliance and Supervisory Procedures Policy:
Firms Policy and mission statement

Giving AML Information to Federal Law Enforcement Agencies and Other Financial Institutions

Checking the Office of Foreign Assets Control Listings

Customer Identification Program

General Customer Due Diligence Risk Check List

Due Diligence Private Banking Accounts/Foreign Political Figures

Compliance with FinCEN's Special Measures against Foreign Jurisdictions

Monitoring Accounts for Suspicious Activity

Suspicious Transactions and BSA Reporting

AML Recordkeeping

Training Programs

Program to Independently Test AML Program

Monitoring Employee Conduct and Accounts

Confidential Reporting of AML Non-Compliance

Additional Risk Areas

AML Reporting Overview

Copy of a SARs Report

Links to Government Sites

AML Checklist - Customer Risk Assessment
And, WE DO IT ALL FOR YOU! ORDER NOW!
Only $349.00 complete